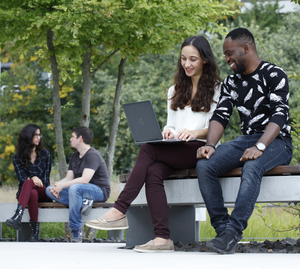 Germany is one of the top places to conduct research in the world and is home to a number of excellent universities and well-funded research institutes. Furthermore, the country has a long record of providing strong support to scientific research, even in times of austerity.
This attractive environment has drawn a diverse range of students and researchers to Germany. There are currently approximately 240,000 foreign students and 26,000 foreign researchers undertaking study and research at German institutions. This picture of Germany as a destination for highly qualified researchers from around the world is illustrated perfectly by the Johannes Gutenberg University (JGU) of Mainz where there are representatives from around 130 nationalities. More information regarding the German research landscape can be found on the Euraxess website.
The JGU was first established in 1477. With over 36,000 students, it is one of the largest universities in Germany. The university and its associated University Medical Center are home to over 150 institutes and research clinics; these cover a broad range of academic topics and provide the ideal environment for scientists at IMB to undertake multidisciplinary research. JGU is a campus university and the Institute of Molecular Biology (IMB) is based on this campus. This enhances the interactions between university scientists and those at IMB by ensuring that researchers are within easy reach for discussions and collaborations. Furthermore, the large student population that attends the university campus makes the surrounding environment an enthusiastic and vibrant place.
We also offer ample opportunities for networking with other researchers at the many national and international conferences our PhD students are encouraged to attend and present their work. Furthermore, IMB organises annual PhD student retreats at which students from IMB, JGU and associated institutes will present their work in an informal setting; again this presents a great opportunity for IMB students to meet other researchers.
Further information regarding the research environment in which IMB is situated can be found here.
The city of Mainz (www.mainz.de) is a charming, open-minded city. It dates back 2,000 years to Roman times and still has a historic centre with a magnificent medieval cathedral. It was also here, in 1450, that Johannes Gutenberg invented modern book printing. The city is located at the confluence of two of the most important rivers in Germany, the Rhine and the Main, and has spectacular esplanades.
Mainz is within easy reach of both cosmopolitan Frankfurt, with its famous opera house, avant-garde museums and glass-and-steel banking district, and the Rhine valley region with its castles, vineyards and nature reserves that offer great outdoor activities. With Frankfurt airport – the largest airport in mainland Europe – only 20 minutes away, countless European and overseas destinations are within easy reach.