IMB's Advanced Training & Career Programme strives to prepare young researchers for success in their future careers. To ensure that our PhD students and postdocs are attractive candidates for future academic and non-academic employers, we offer training and events tailored towards career development:
Career development workshops, including career options, and application and interview training.
Career talks held by professionals working in non-academic careers.
Alumni events, including career talks and networking sessions for IPP PhD students, IMB postdocs and IMB group leaders.
Mentoring sessions with international scientists, including IMB's directors, the speakers invited for IMB's Seminars and former members of IMB's Scientific Advisory Board.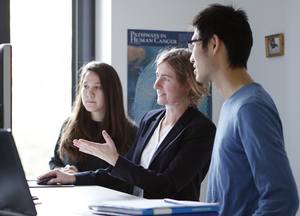 IMB's Mentoring Programme for Junior Researchers
To provide guided mentoring and career development opportunities to young researchers, the IMB Mentoring Programme for Junior Researchers was established. The programme is open to all PhD students in the International PhD Programme (IPP) and postdocs in the IMB Postdoc Programme (IPPro).
Mentees in our programme will:
Connect with professionals working in academia and beyond.
Receive focused and impartial advice from their career mentor.
Better understand their career path options, to realise their full potential.
If you are a member of the IPP or IPPro and would like to learn more about this opportunity, visit the Junior Researcher's Intranet​ or contact IMB's Professional Development Office.