IMB supports parents by helping them balance their families and work—either through flexible working hours and enabling home office or through onsite offers and facilities. For instance, IMB has a Family Room and two movable "KidsBoxes" sponsored by the SFB 1361, so that parents in affiliated research groups can bring their children with them to work if regular childcare is temporarily unavailable. Employees can also find support through the informal "Parents at IMB" group, where staff share experiences related to family situations.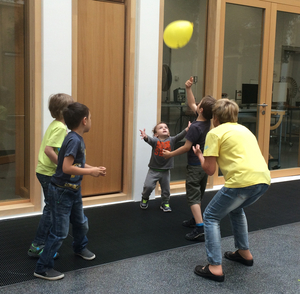 IMB employees enjoy all the benefits of working at Mainz University, including the professional childcare facilities on campus, which are within easy reach of IMB. IMB staff are entitled to 3 days of emergency childcare per year provided by Mainz University, allowing parents to arrange childcare at short notice in exceptional situations. In addition, IMB offers onsite professional childcare during events (such as talks) scheduled late in the afternoon and emergency certified childcare if campus childcare facilities close unexpectedly. Furthermore, the University's Family Services Center offers holiday camps for older children (age 6-12) at no cost to students and at a subsidised cost for staff. Click here to see the numerous areas of interest for children and families on campus.
IMB staff have the added benefit of home office working hours, allowing employees to choose the right work hours for their families' schedules.